How it Works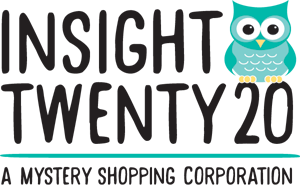 Insight Twenty20 works closely with our clients to develop a customized program catering to their protocol and procedures. Most people know what mystery shopping is, but few fully understand the process involved. Below are step-by-step breakdowns and a more in-depth look at what mystery shopping really is and how it may benefit your business.
---
---
---
Step 1: We collect information from clients on service objectives and visit instructions.
Step 2: We create an online audit/evaluation form.
Step 3: We assign the visits to our mystery shoppers.
Step 4: The mystery shopper conducts the visit.
Step 5: The shopper completes the evaluation form.
Step 6: The feedback is reviewed for accuracy.
Step 7: Complete feedback/evaluation report is submitted to client within 3-5 business days.
Phase 1: Information Gathering
The client provides key information including locations to be shopped, visit frequency per month, and any specific steps to be followed during the visit.
Phase 2: Audit Design & Development
The customized audit form is developed & designed encompassing the information provided by the client.
Phase 3: Program Implementation
The audit form is uploaded to the Insight Twenty20 website to test it's functionality.
Phase 4: Launch
Once the client is satisfied that the audit form meets their stated objectives, the project is launched for our Insight Shoppers to access it.
Phase 5: Feedback & Reporting
Client receives the completed order form within 3-5 business days of the site visit.
Phase 6: Maintenance
We will work closely work the client to ensure that our mystery shopping program is an effective training tool and an accurate measure of performance.
Real Time Reporting
Provides up-to-date information about what's happening at your business.
Email Notification
Allows you to see surveys without logging in and take action immediately.
Multiple Security Levels
Allows restricted viewing based on administrative level.
Comprehensive Commentary
Tells a detailed story of the visit to the reader.
Specific Data Queries
Isolates red flag information, allowing you to focus on key areas in need of improvement.
Qualitative/Quantitative output
Provides insight and understanding via statistical trends.
Clear Graphs & Colorful Visuals
Provides a professional and easy way to interpret data/